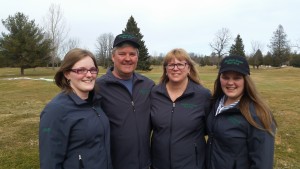 We are Aerating all greens on Tuesday May 23. The course will be closed to the general public. Members may come out to play but the priority will be to complete the aeration of all greens in one day to minimize disruption.
This means that if maintenance crew are working on a green you may not play your approach shot to the green. You will need to skip the hole and move on to the next. Maintenance crew will be working on more than one hole at once so several holes may be closed at once.
Aeration is an essential program to keep playing surfaces healthy and in good condition. Aeration primarily is performed to control organic matter – i.e., decaying roots and grass stems – relieve soil compaction, stimulate root growth and improve drainage. If organic matter becomes too thick, it acts like a sponge and holds water at the surface after rain or irrigation. Excessive organic matter also inhibits root growth, reduces oxygen levels in the soil, encourages disease and eventually can lead to turf failure. Furthermore, excessive organic matter creates soft surfaces prone to ball marks, foot printing and inconsistent playing conditions. Aeration and topdressing are the most effective ways to control organic matter and maintain smooth, firm putting surfaces.
Thank you
Tom & Anne Spence
http://sheffieldgreensgolf.ca/wp-content/uploads/2016/05/Sheffield-Circle-Logo-325x325-300x300.jpg
0
0
Sheffield Greens
http://sheffieldgreensgolf.ca/wp-content/uploads/2016/05/Sheffield-Circle-Logo-325x325-300x300.jpg
Sheffield Greens
2017-05-22 08:35:23
2017-05-22 08:35:23
Tuesday May 23 Course Closed to Public for Maintenance